THE BOWES LEGACY
There are four places to visit if you'd like to explore the legacy of George Bowes, his daughter Eleanor and their descendants: Gibside, The Bowes Museum, Glamis Castle and Causey Arch.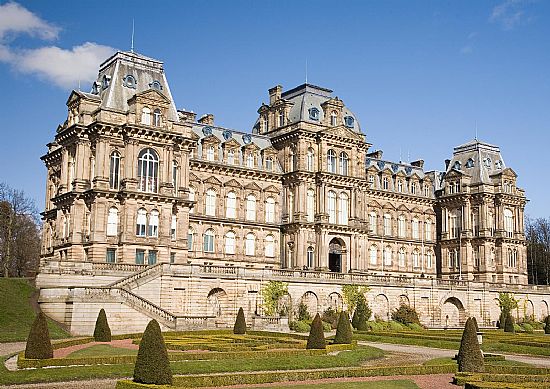 The Bowes Museum is 'a magnificent French château created in the late 19th century by John and Joséphine Bowes, housing internationally renowned collections of European fine and decorative arts spanning five centuries. The permanent collections comprise works by artists such as Canaletto, El Greco, Courbet and Turner, and contain one of Britain's most extensive collections of ceramics, including Italian maiolica and Sèvres Porcelain.'
Photographs and text with kind permission of the Bowes Museum
The Silver Swan was made in France and was first shown in London in 1774, at a time when Eleanor might have seen it at the Mechanical Museum of James Cox, so I had her describe it in a letter to her children. It was bought exactly a hundred years later by her grandson, John Bowes, and is now the most popular attraction at the Museum, where it can be seen in action at 2pm every afternoon.
Another of the treasures of the Bowes Museum is Mary Eleanor's Botanical Cabinet, which was made to house some of her most precious specimens. When the front side cover is lowered, the interior reveals drawers with a tilting panel on which to inspect the flowers and seeds or use as a writing stand. A drainage system allowed the plants to be kept watered. It is veneered in burr elm and kingwood on oak, with decoration in boxwood in neo-classical style, with typical swags and bows along with cameos featuring heads thought to be of Roman Emperors and literary figures. Similar heads, probably of George and Eleanor's literary heroes, used to decorate the walls of the Banqueting House at Gibside, which is now a Landmark Trust property
In 1817, Eleanor's son, John Bowes-Lyon, the 10th Earl of Strathmore, bought this painting of Gibside directly from the artist, J.M.W.Turner. It shows the estate viewed from the north, and near the centre you can see Gibside Hall. The museum holds four watercolours by Turner, two of which are of Gibside: the other is a view from the south. By the time Turner painted these scenes, the Column to British Liberty had taken on even more significance due to the Napoleonic Wars.